Zach Sturos is joining SPCEA as Director of Membership Engagement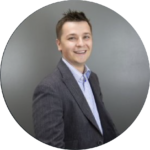 SPCEA is pleased to announce Zach Sturos as the Director of Membership Engagement.   In this role, Zach will oversee SPCEA's expansion of its member activities and provide leadership to enhance the value of an SPCEA membership.
"We are excited to have Zach join SPCEA's leadership team," said Chris Domanski, President of SPCEA. "SPCEA's rapid growth has created the need for having an energetic leader who can focus on the needs of our membership – we're fortunate to have Zach joining us in this role!"
About Zach Sturos
Zach Sturos has 5 years of automotive purchasing experience with Nexteer Automotive and Dana Incorporated. Academically, he has achieved a Bachelor of Science in Marketing at Oakland University (2016) and a Master of Science in Supply Chain Management at Michigan State University (2020).
Graduating from Oakland University in 2016, Zach started his career at Nexteer Automotive supporting the team as a Systems Analyst. The first years of his career were spent integrating purchasing processes into the company's ERP systems. He was able to utilize that experience – learning both commercial and quality processes – to transition into an Operational Buyer role supporting the steel, stamping, and tubing commodities. As his career progressed, Zach became the regional commodity lead for various commodities as a Strategic Buyer. In early 2021, Zach moved from Nexteer Automotive to Dana Incorporated as a Senior Buyer.
At Nexteer, Zach was introduced to, and became active in, the cost modeling process. As the regional commodity lead for powder metal, plastics, and electromechanical components, he was able to integrate costing practices into his commodity strategies. This data-driven approach to purchasing has been carried over to Dana and is now being implemented within the supply base there.
About SPCEA
The Society of Product Cost Engineering and Analytics (SPCEA) is a 501(c)(6) non-profit organization dedicated to promoting awareness and knowledge of cost engineering and analytics in the manufacturing of products, thereby enabling improved industry profitability and increased employment that result in the betterment of society. Established in March 2020, SPCEA's vision is to be the prominent global hub of cost engineering and analytics knowledge sharing by establishing foundational standards, providing education and certification, and driving thought leadership within manufacturing industries.
Contact:
Society of Product Cost Engineering & Analytics (SPCEA)
P.O. Box 1791 | Senoia, Georgia   20276 | Email: jmiller@spcea.org