Talent, Performance, Growth: CFOs' Top Priorities for 2022
Check out SPCEA Training & Certifications:
Expert Training           Certifications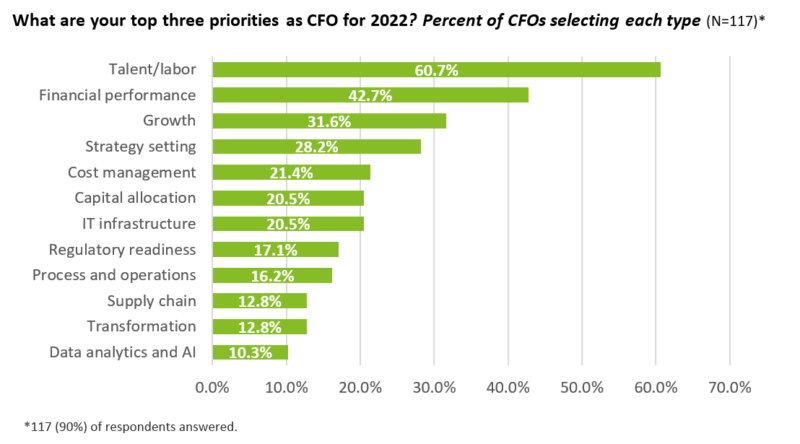 The top priorities named by CFOs participating in Deloitte's 4Q21 "CFO Signals" survey reflect the growing breadth of their responsibilities.
Heading into the New Year, Deloitte's fourth-quarter 2021 "CFO Signals™" survey asked CFOs what their top three priorities are for 2022; their write-in responses zero in on talent/labor, financial performance, and growth.
"These top three priorities—taken together with their fourth pick, strategy setting—underscore CFOs' expanding breadth of responsibilities," says Steve Gallucci, national managing partner for the U.S. Chief Financial Officer Program at Deloitte LLP. "And CFOs are laser focused when it comes to helping their organizations address the significant talent/labor shortages amid the Great Resignation. They also aim to improve their companies' financial performance using a variety of levers and to grow their companies for the long term." Cost management, capital allocation, and IT infrastructure are other priorities CFOs identify for 2022.
Reflecting on the challenges of return-to-work—hybrid or otherwise—and the Great Resignation, CFOs cite talent/labor and related issues far more often than other priorities for 2022. "Retention, retention, retention" is a resounding refrain, including through wages and incentives. Some CFOs also note the importance of attracting new talent (and the right talent) and developing and upskilling current talent.