EASYKOST JOINS SPCEA AS A CORPORATE MEMBER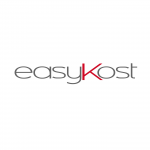 We are excited to announce that easyKost has joined the Society of Product Cost Engineering & Analytics (SPCEA) as a Silver corporate member.
EasyKost is a SaaS software and data publishing company that specializes in cost estimating and product design data exploration utilizing artificial intelligence.  The creation of the easyKost company, and of its main software of the same name, was prompted by the need to develop a simpler, less time-consuming approach than the use of should-cost models.
The software, data and services offered democratize and simplify cost estimating to allow businesses design at the right price, improve their time-to-market and boost purchasing performance.
Aside from software creation and distribution, the easyKost company also manufactures and creates value added data that makes it possible to enrich company-specific information to achieve a better definition of its products/services.
SPCEA is the only non-profit organization dedicated to the advancement of cost engineering and analytics in manufacturing. As a member, you get access to training, technical data, career assistance, discounts on products & services and lots of other valuable content. All membership fees go toward development of member content, including training and certifications.